As the saying goes, the road to happiness is full of hardships. Although 2022 CIMP AutoEcosystems Expo had been postponed, we are glad to welcome 22nd & 23rd session of CIMP AutoEcosystems Expo which will upgrade from exhibiting areas, categories and scale, expected to reach a new peak in Asia. 2023 CIMP AutoEcosystems Expo aims to build an exhibition base for the whole auto industry, gathering all industrial bases, connecting through whole industry chain with source factories participation. It also endows this session with historical meaning and industrial mission, symbolizing that leapfrog development layout surrounding auto ecology has formed for CIMP AutoEcosystems Expo.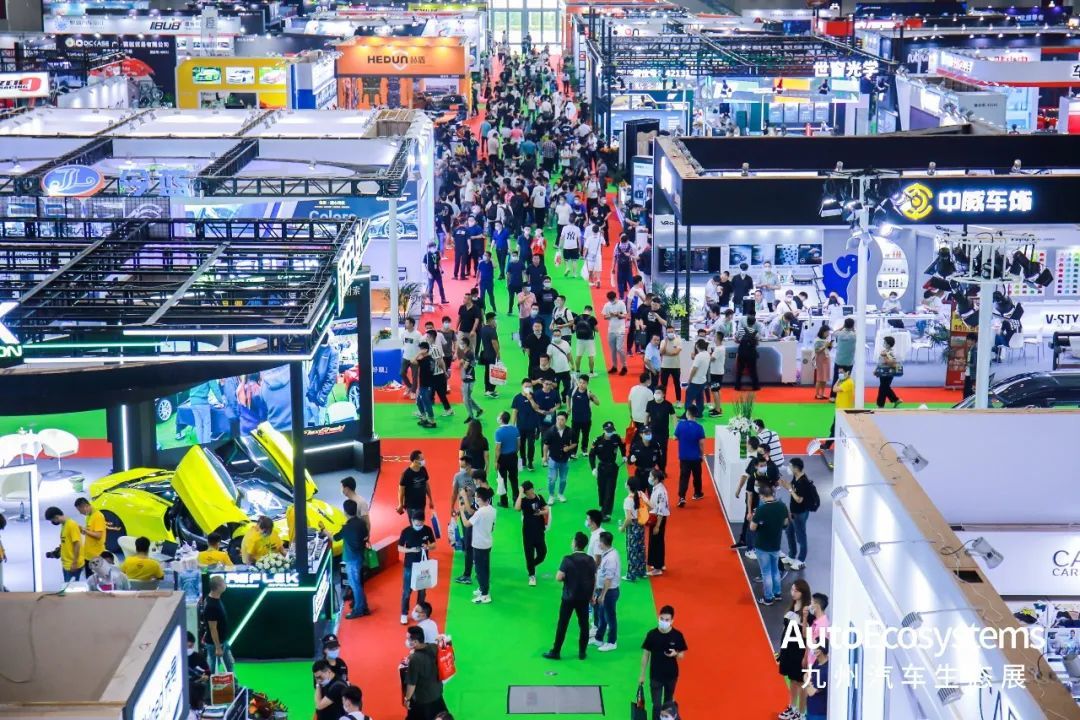 Build Automotive Ecosystem - Link between Upstream and Downstream Enterprises
From Exhibition to Industry, Gathering Resources
Connect Industry Bases to Form the Whole Network
Why is 2023 CIMP AutoEcosystems regarded as large exhibition? "Large" not only refers to exhibition scale but also the natures of connecting bases, integrating industry and cross-border categories. The wind of industry transition is blowing, with the emergence of new business model and integration between industry bases and among industry chain. Auto industry also upgrades from initial "Product Line Demand" to complicated "Industry Chain Need". In this context, CIMP AutoEcosystems Expo scale expands from 160,000sqms to 200,000sqms, building a four-in-one exhibition and trade pattern centered on Shenzhen International Custom Modified Vehicle Exhibition, Global Intelligent Vehicle Conference and Fair, Shenzhen International Ecological Commercial Vehicle Expo, Shenzhen International RV and Camping Exhibition. Professional buyers and visitors are predicted to reach 300,000 people. A complete auto industry ecological chain exhibition is formed!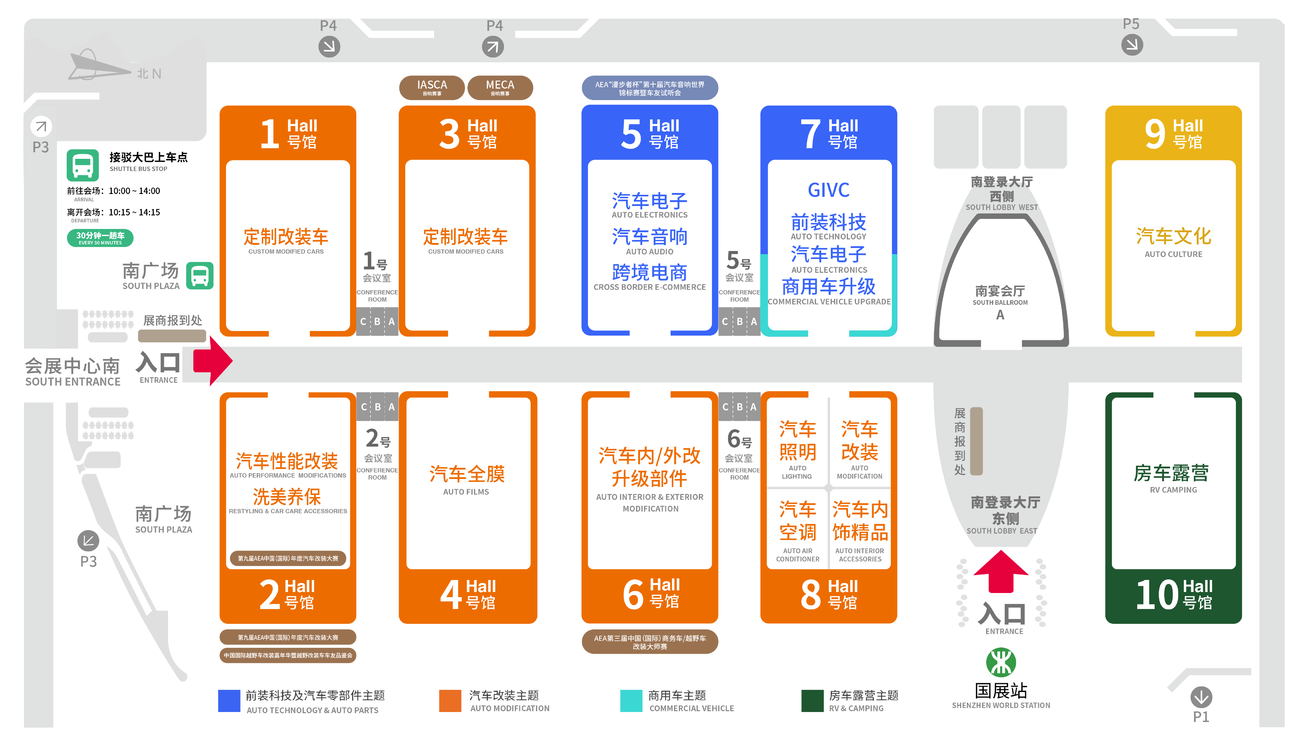 Auto Enterprises Firstly Participate in Modification Themed Event
100+ OEMs 1,000+ Custom Modified Vehicles
20,000+ Modification Solutions Make Their First Appearance
On 2023 Shenzhen International Custom Modified Vehicle Exhibition, 100+ mainstream OEMs will participate for the first time, and will launch 1,000+ custom modified vehicles. 4400+ modified source enterprises will release 20,000+ new modified products and solutions. 2023 CIMP AutoEcosystems Expo Modification Themed Exhibition will be the largest and most comprehensive annual modification industry exhibition.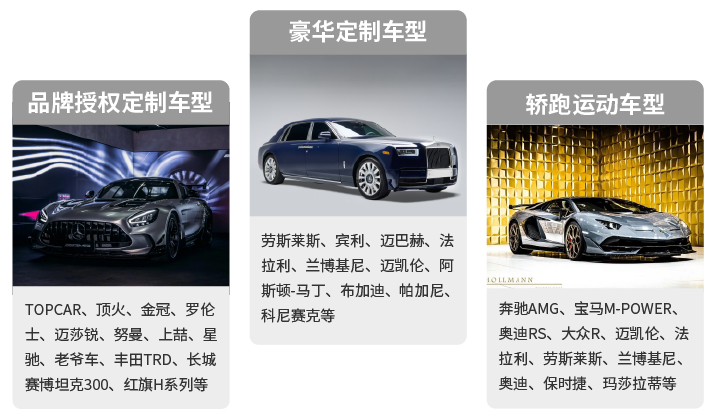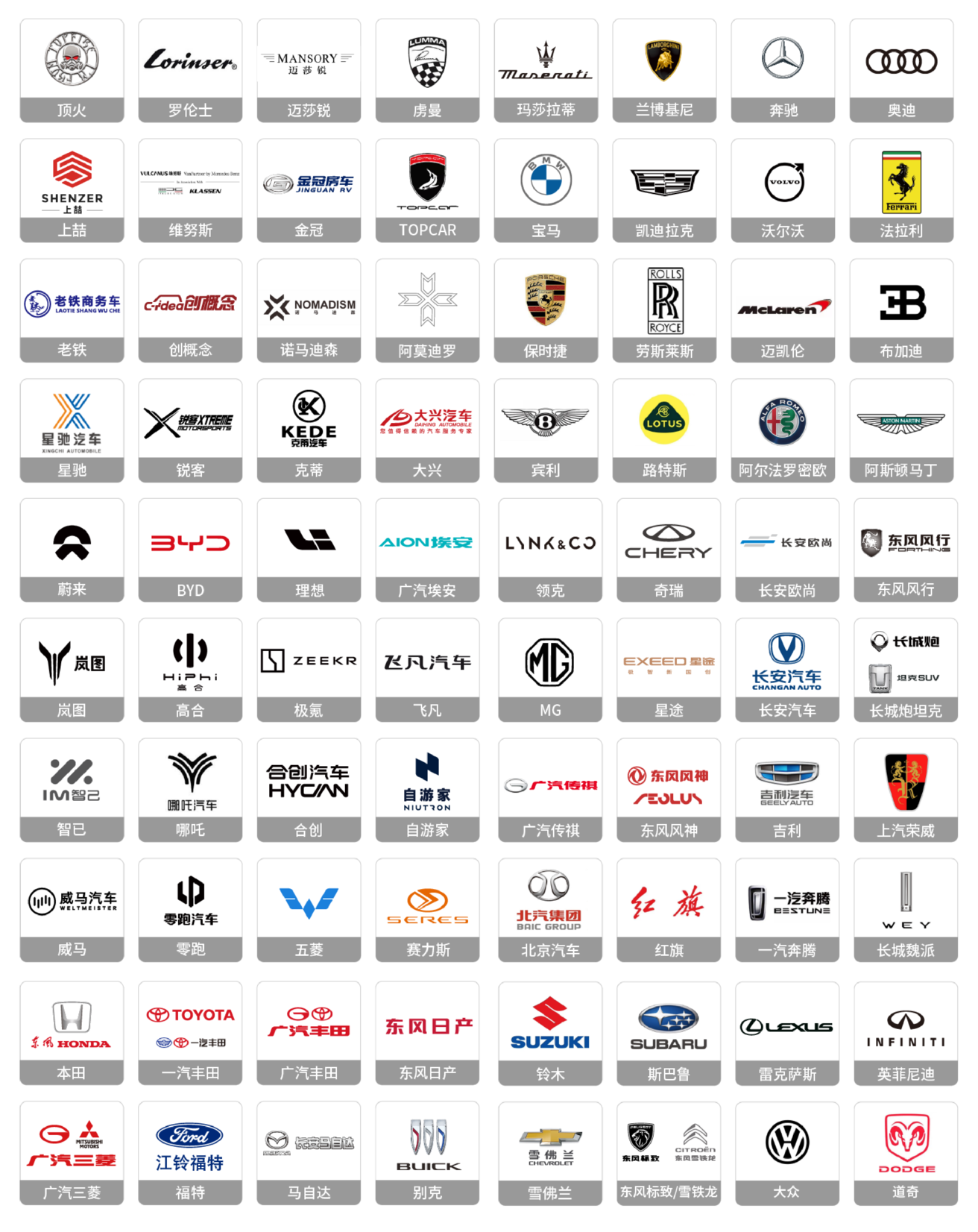 It is notable that 100+ auto enterprises participation brings all categories which represent future commercial vehicles and development trend. Most importantly, auto technology supply chain investment invitation will be open to public through the Exhibition. On 2023 CIMP AutoEcosystems Expo, Exhibitors will not only have match-making with 4S group, municipal agencies and service providers, but also have the opportunities to enter auto industry supply system rapidly. As looming personalized consumption pushes modification categories upgrade, plus declining traditional business mode, auto market demand is rebounding. Exhibiting areas cover 18 comprehensive modification categories, including Custom Modified Vehicle, Interior/Exterior, Commercial/Off-Road/New Energy Modification, Auto Film, Boutique & Gift, Performance Modification, Auto Electronics, Auto Audio, Auto Lighting, Auto Air-Conditioning, Beauty and Maintenance, Spare Parts and other themed exhibiting areas. 4400+ exhibitors and brands will launch 20,000+ new products during the Expo.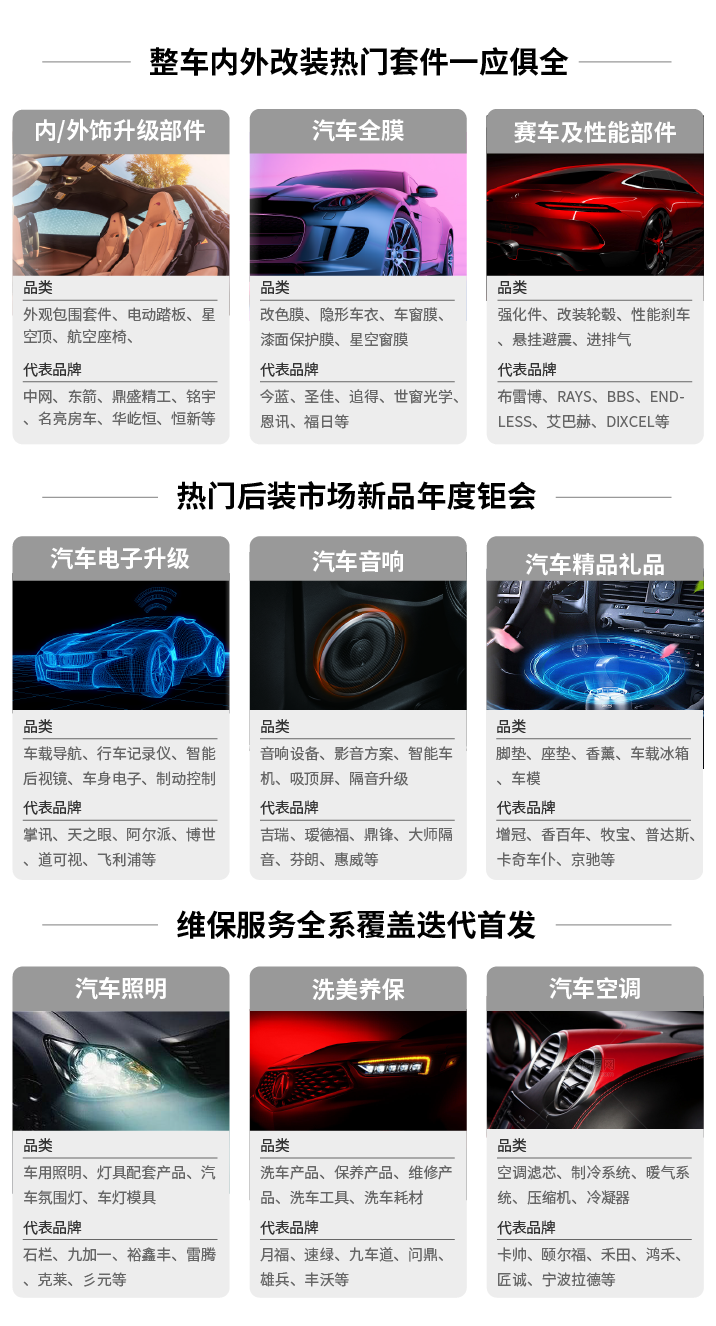 Auto Technology Themed Exhibition Connect Through Whole Industry Chain
The Only Technology Platform in China Covering Auto Tech, Complete Vehicle and After-Market
In 2023, Global Intelligent Vehicle Exhibition and Conference (GIVC) will cover Auto Technology, New Energy, Auto Parts. Exhibiting Categories: Complete Vehicle, Drive System, Central Control System, V2X, Electric-Driven System, Charging System, Chassis, Body, Interior, Hydrogen Support...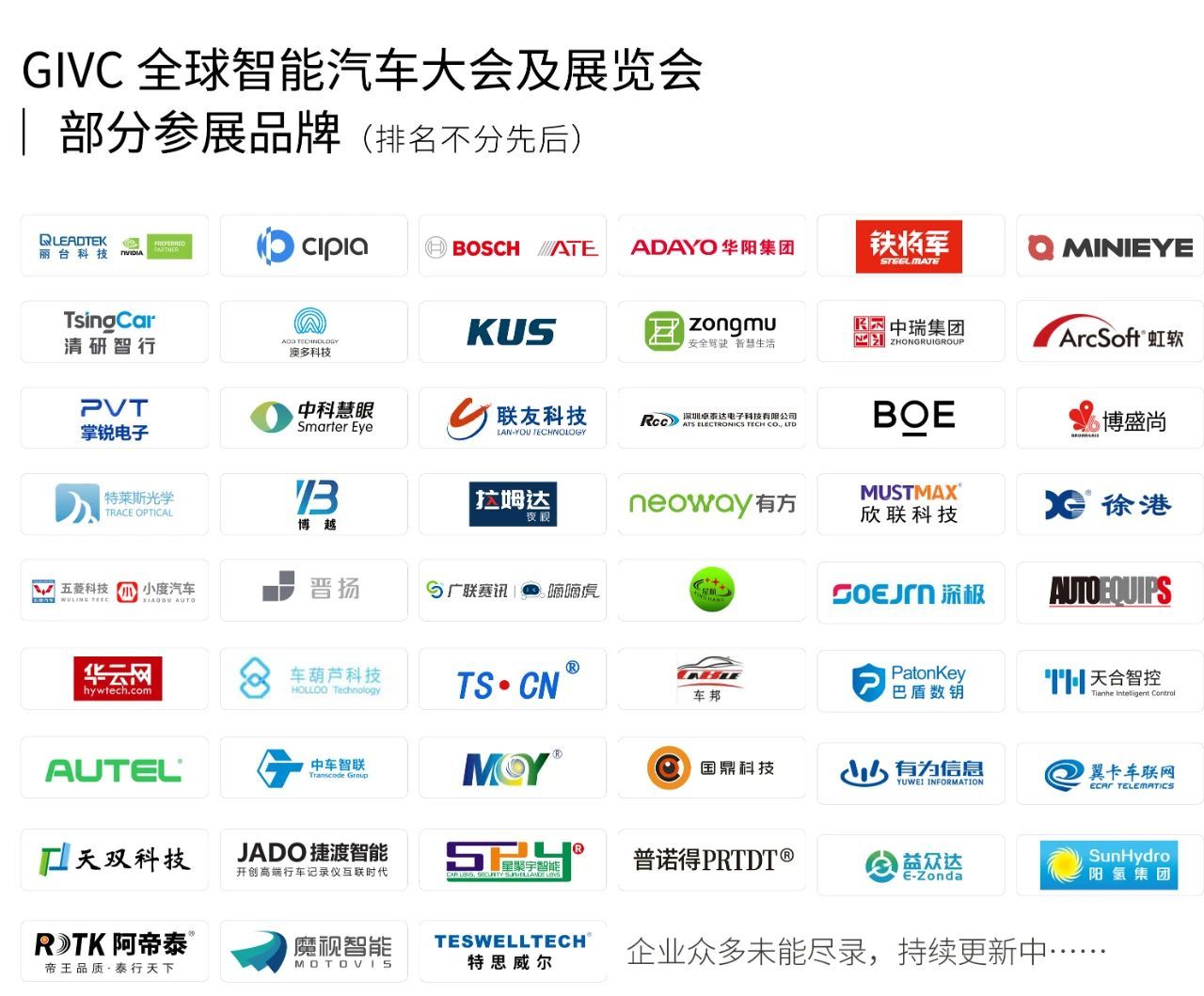 Commercial Vehicle Themed Exhibition Covering Front, Middle, After Market
The Only Trading Platform in China Covering Auto Front Tech, Complete Vehicle and After-Market
2023 Shenzhen International Ecological Commercial Vehicle Expo will theme on Intelligence, Safety and Environment. With 500+ participating brands and enterprises, the Exhibition upgrades to 6 more exhibition areas including Auto Technology, Commercial Vehicle V2X, Modification, Commercial Vehicle, New Energy Support and Parts & Maintenance, covering 300+ sub-categories.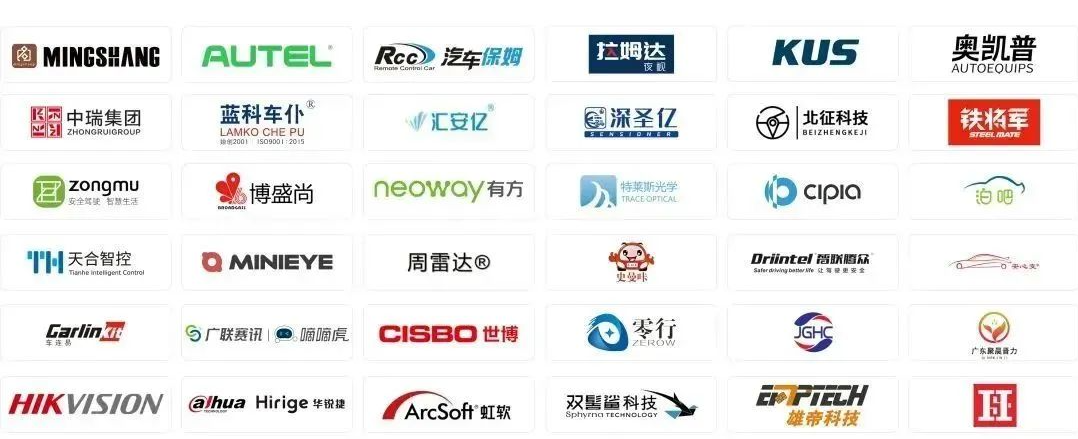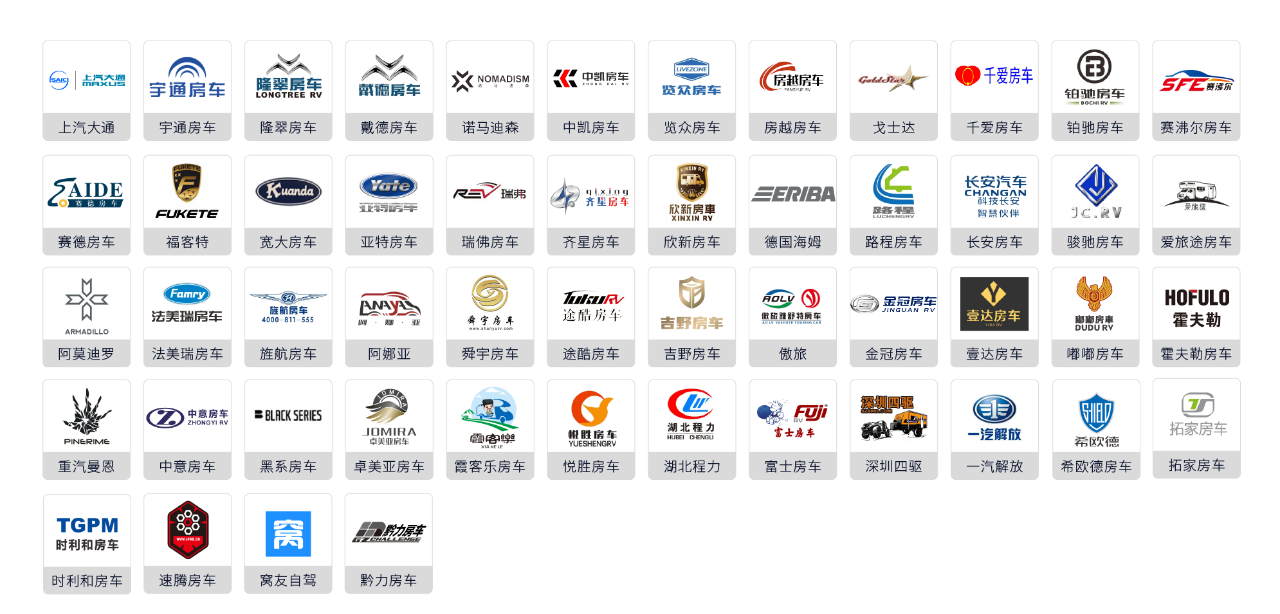 RV & Camping Themed Exhibition Covers Outdoor Equipment
Custom Modified Vehicles Lifestyle Leads New Trend of Outdoor Consumption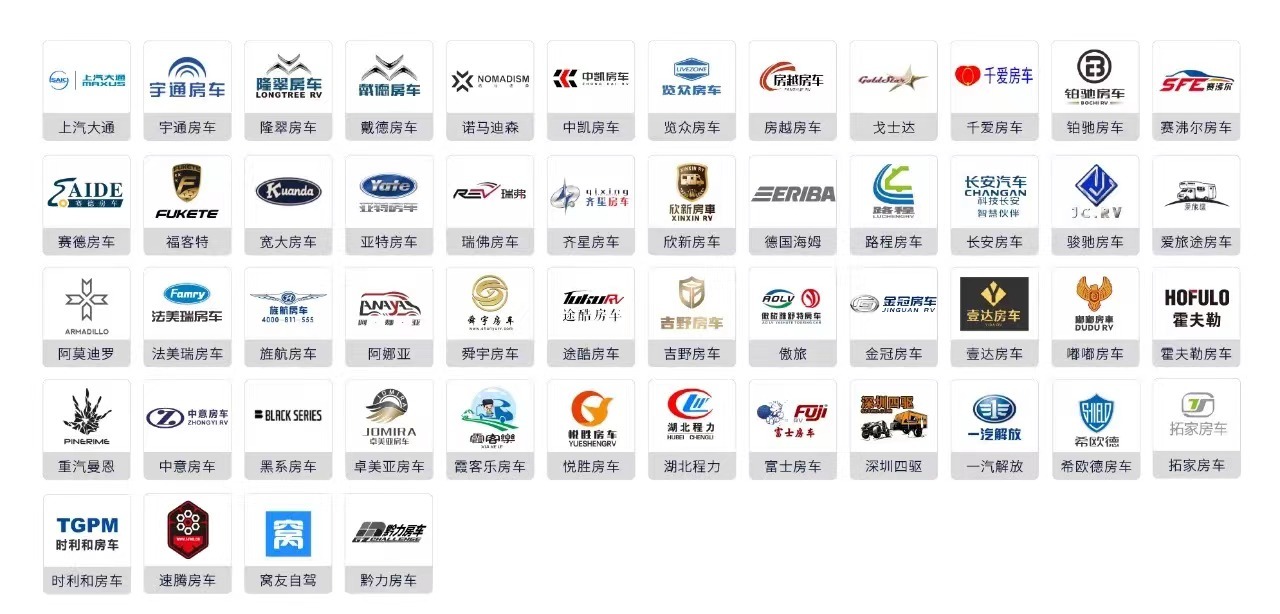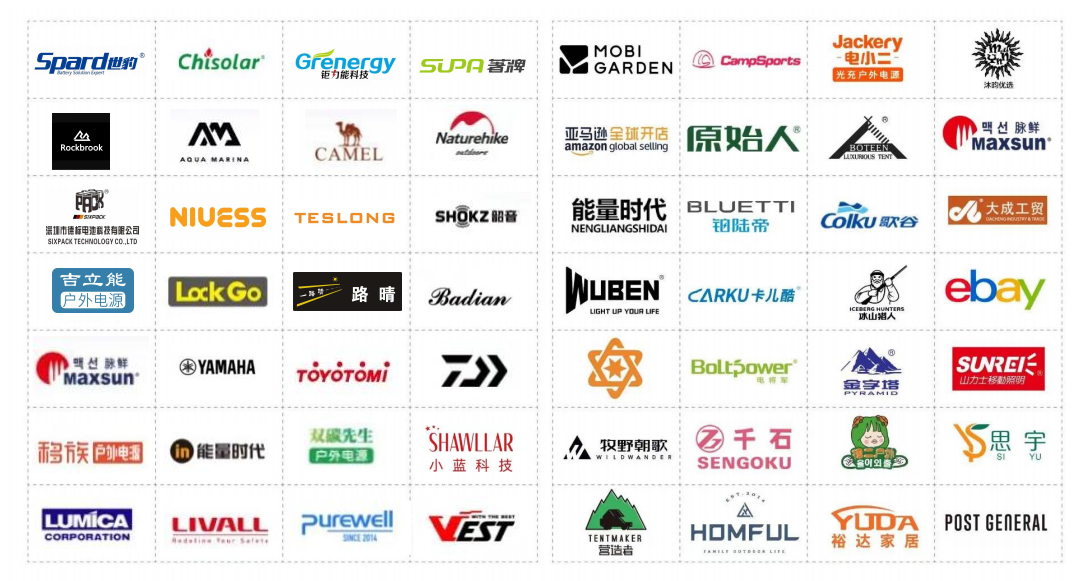 2023 Shenzhen International RV Camping Exhibition will cover RV Whole Vehicle, RV Parts, Campsite Equipment and each category in RV industry. Exhibiting enterprises is predicted to exceed 100 RV brands and 300 camping and outdoor equipment brands. Concurrent RV New Energy Trend Launch Conference will be held. Unite with many auto enterprises to start a new mode of selling vehicles through live podcasts. Dig into RV camping economy, take up billion-level new lane, unlock utopia lifestyle!
50+ Summits and Competitions
Assisting On-Site Buyers Studying and Judging Industrial Development Trend Precisely
50+ high-end summits and competitions will be held during 2023 CIMP AutoEcosystems Expo. Come to Shenzhen to understand future auto market, and choose new product, new project and new mode on site!
On March 2 to 5, GIVC Main Forum: SAE Intelligent Vehicle Remodel Auto Industrial Value Chain and Competition Layout and many sub-forums, 2023 International Automobile Market Development and Investment Opportunities Exchange Seminar, 2023 The 17th Chinese 4S Automobile Accessories Management Workshop & The 17th China Automotive Aftermarket Trends Forum, 2022 Grand Prix·China Automotive Aftermarket Annual Awards Ceremony & the 10th Jinan and CIMP 4S Knight Anniversary Dinner and other summits, 30+ AEA series of audio, modified vehicles, film competitions…will be held during 2023 CIMP AutoEcosystems Expo.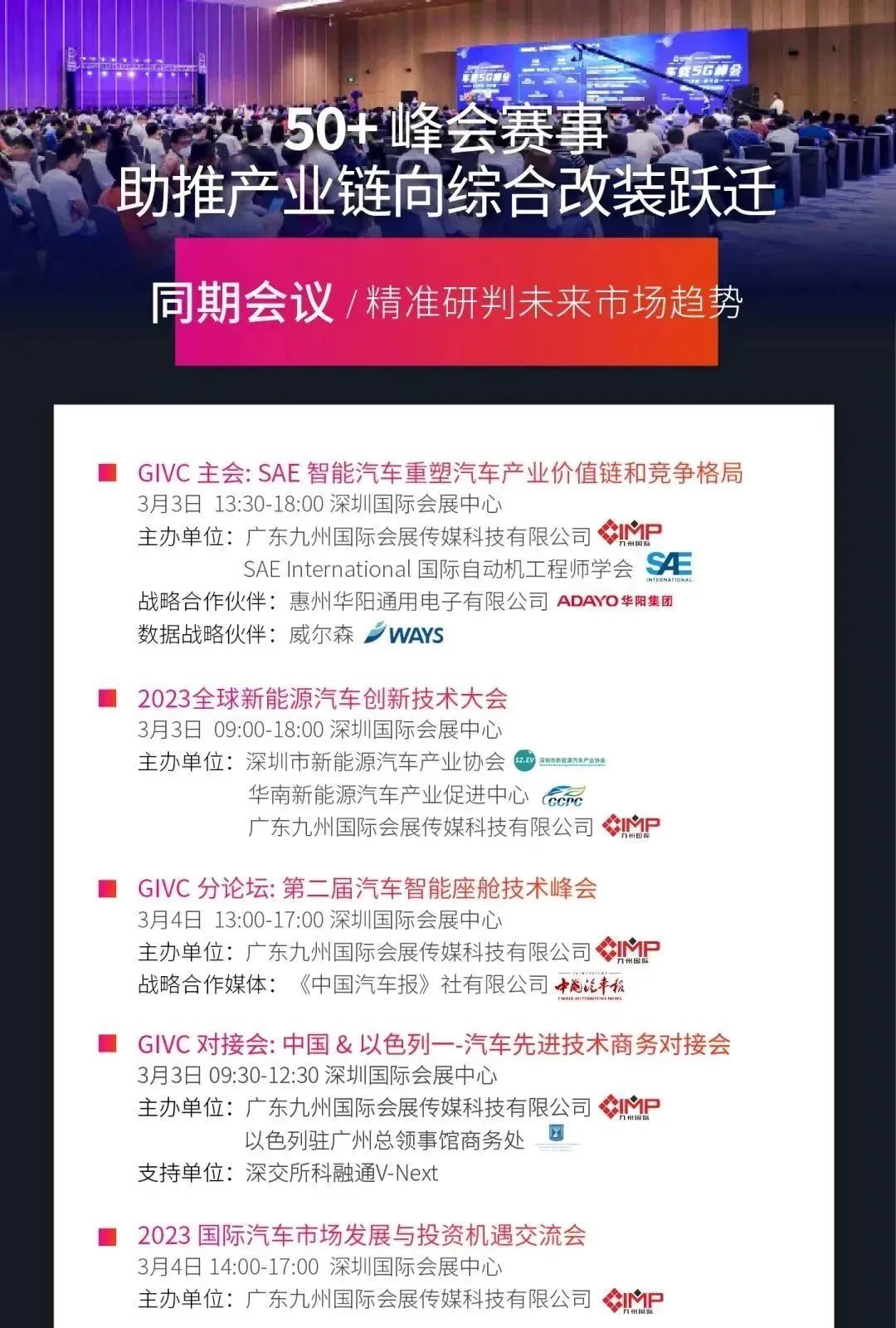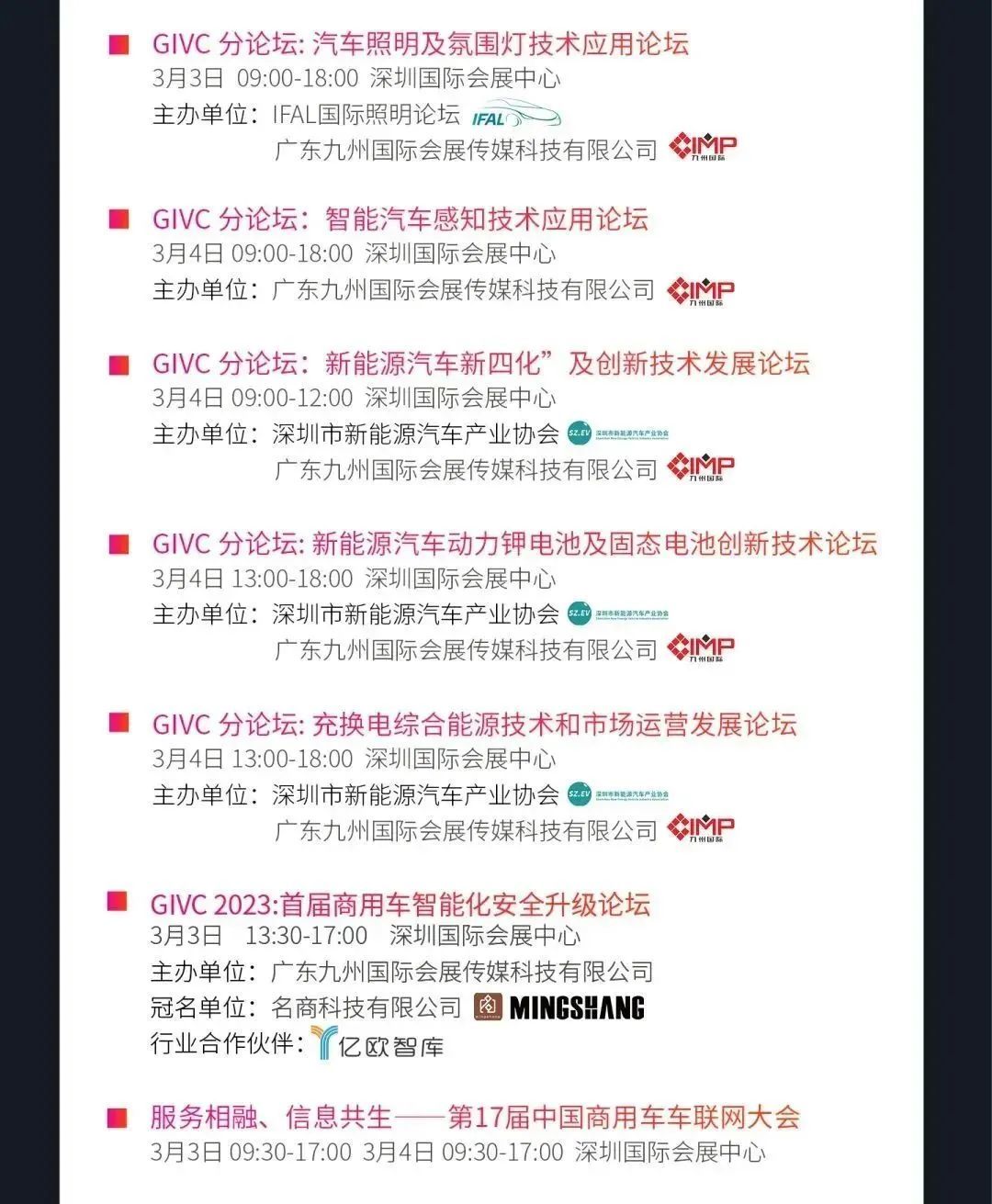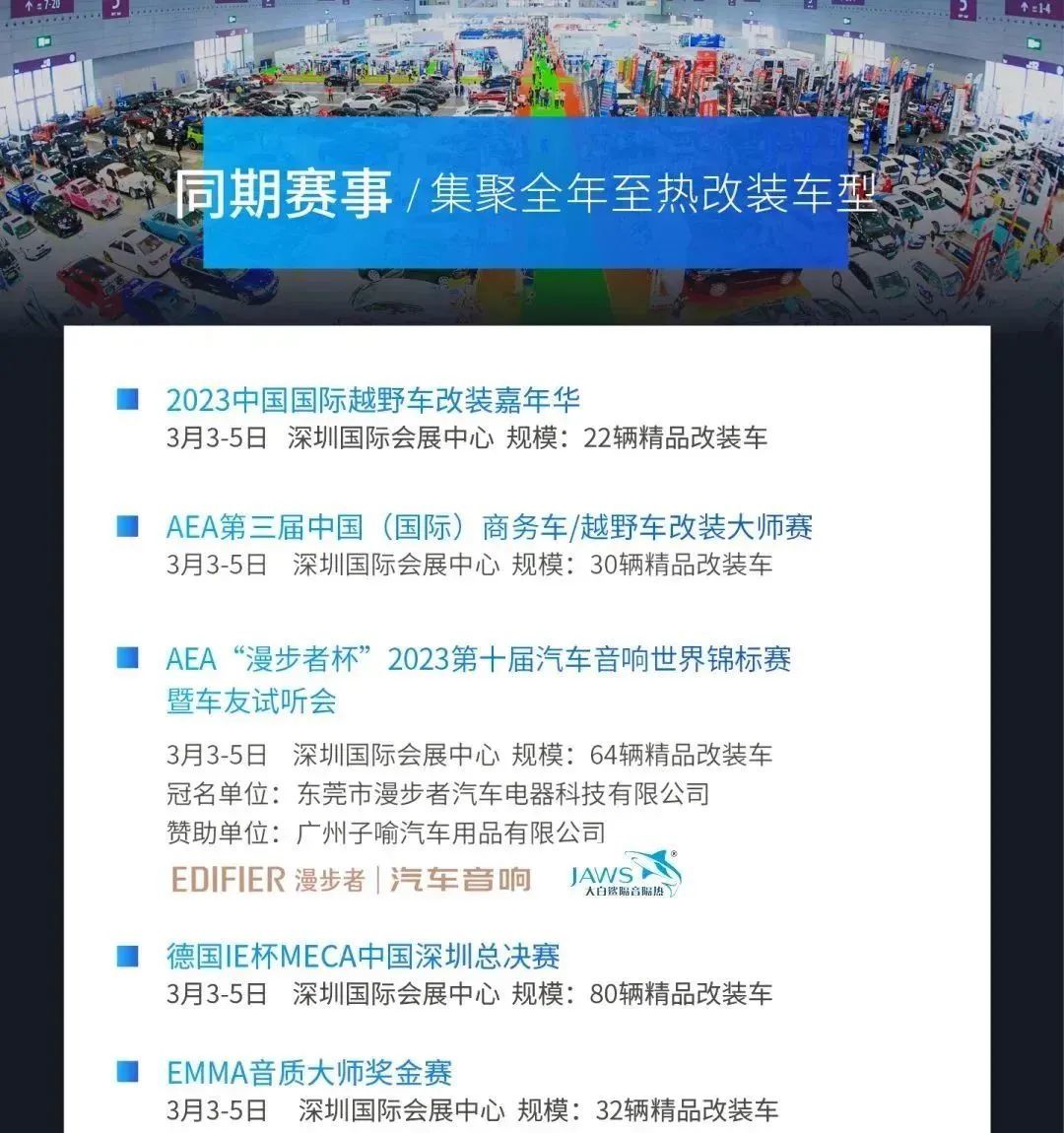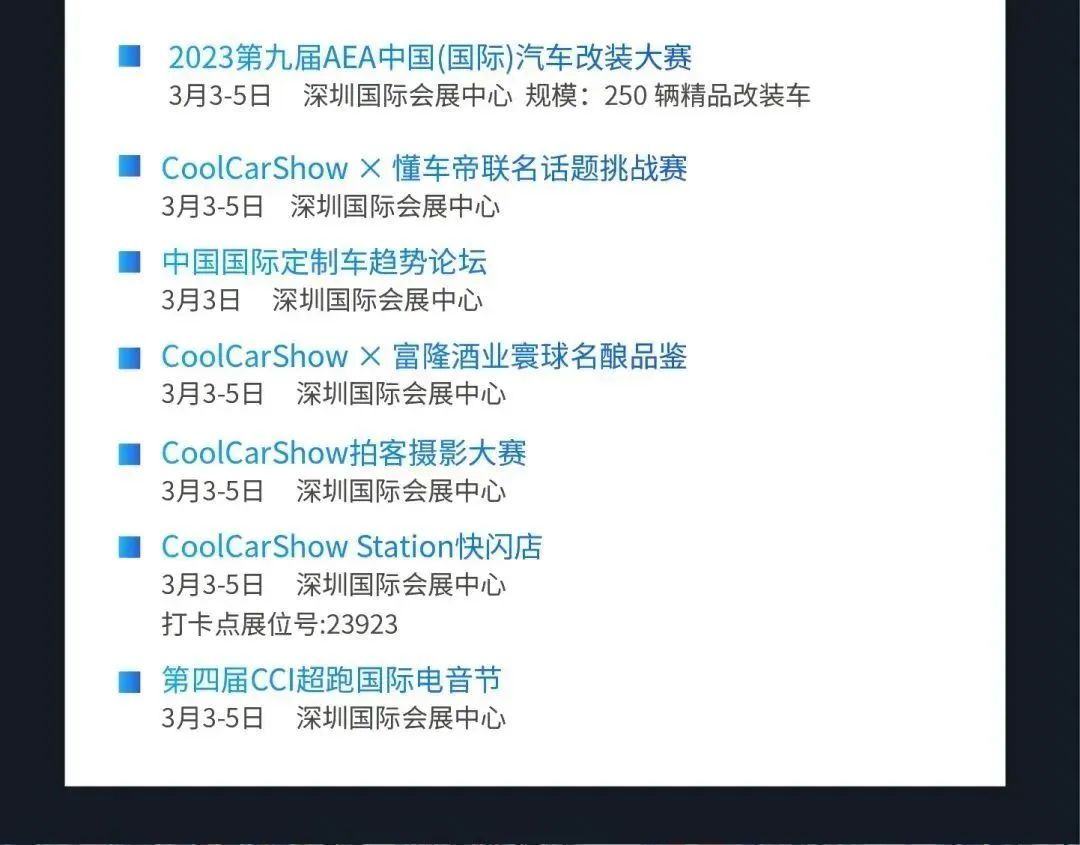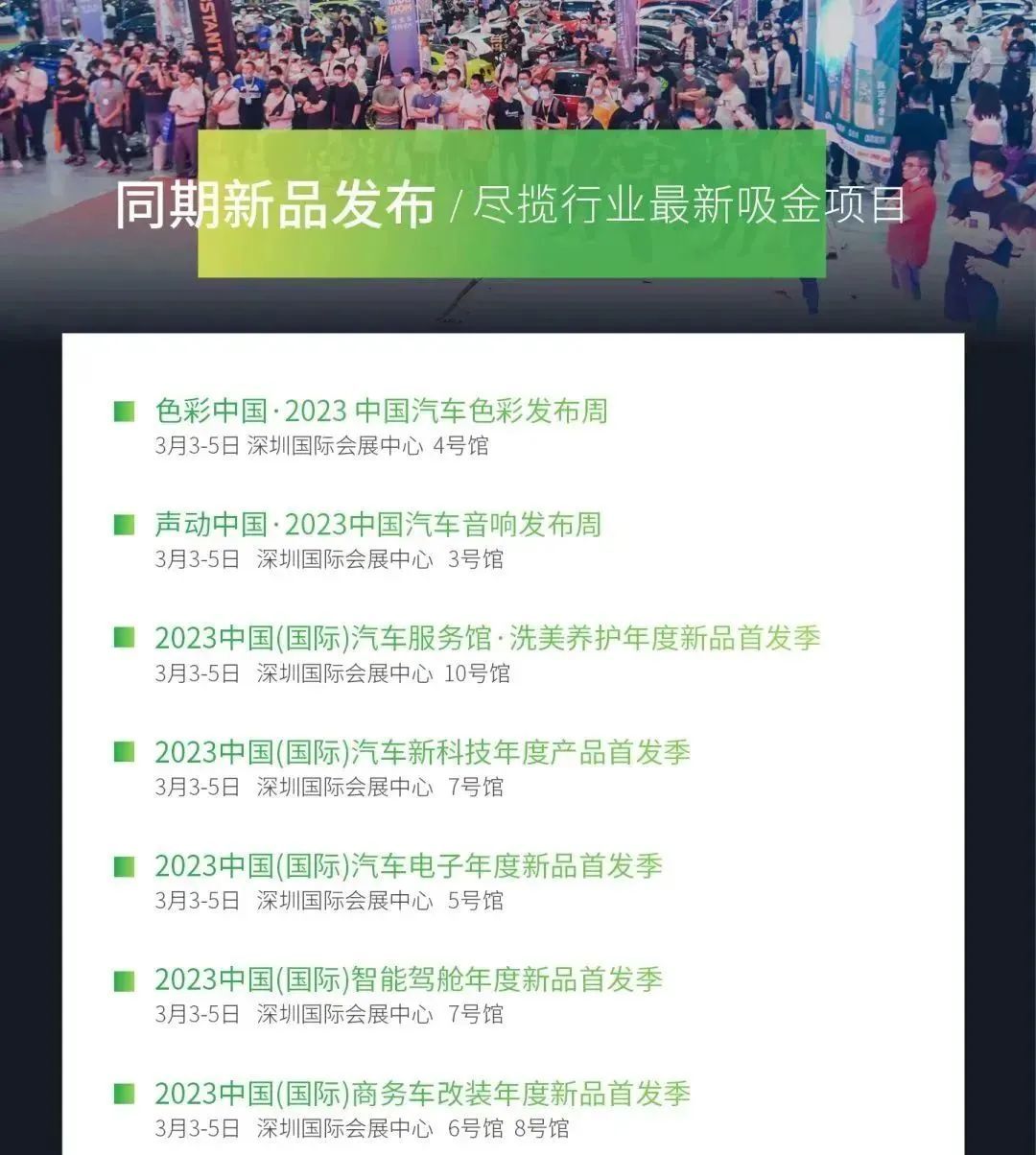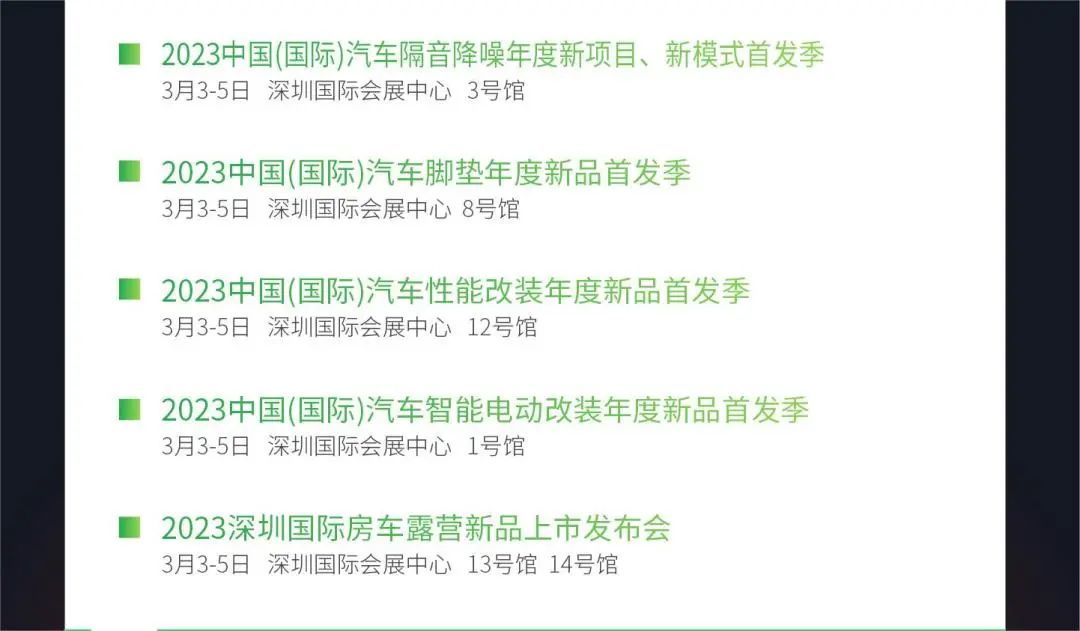 Overseas Buyers Help Enterprises Trade Globally
Embassies and Consulates From 30+ Countries and Regions Purchase on Site
CIMP AutoEcosystems Expo is continue to expand its "Gravisphere". CIMP AutoEcosystems Expo is not only the direct access for Chinese excellent enterprises and brands to enter global supply chain, but also the first stop for chambers of commerce to make match with Chinese auto industry chain. So far, representatives from 30+ countries and regions, including Italy, Israel, Finland, Australia, France, England, have reached cooperation with CIMP successively.
Relying on its accumulated multi-channel buyer advantage, CIMP AutoEcosystems Expo also promote domestic trade. Through 2023 CIMP AutoEcosystems Expo, exhibitors will gain multiple benefits: Match-Making with OEMs, Further Optimize Multiple Buyer Channels (4S group, municipal agencies, etc.), Expand Store Channels (dealers, etc.).
Offline and Online Exhibition
500+ Live Podcasts, Online Exhibition, 10+ Media Convergence, 1000+ Influencers Gathering
Relying on CIMP 300,000 accurate data of auto technology, 4S, municipal agencies, overseas, e-commerce and other resources, 2023 CIMP AutoEcosystems will realize online and offline exhibition through official media promotion, live podcasts, celebrities attending, CIMP convergence medias, online exhibition, influencers… Covering millions of buyers and industry experts from around the world, it will be the first large automotive event in 2023.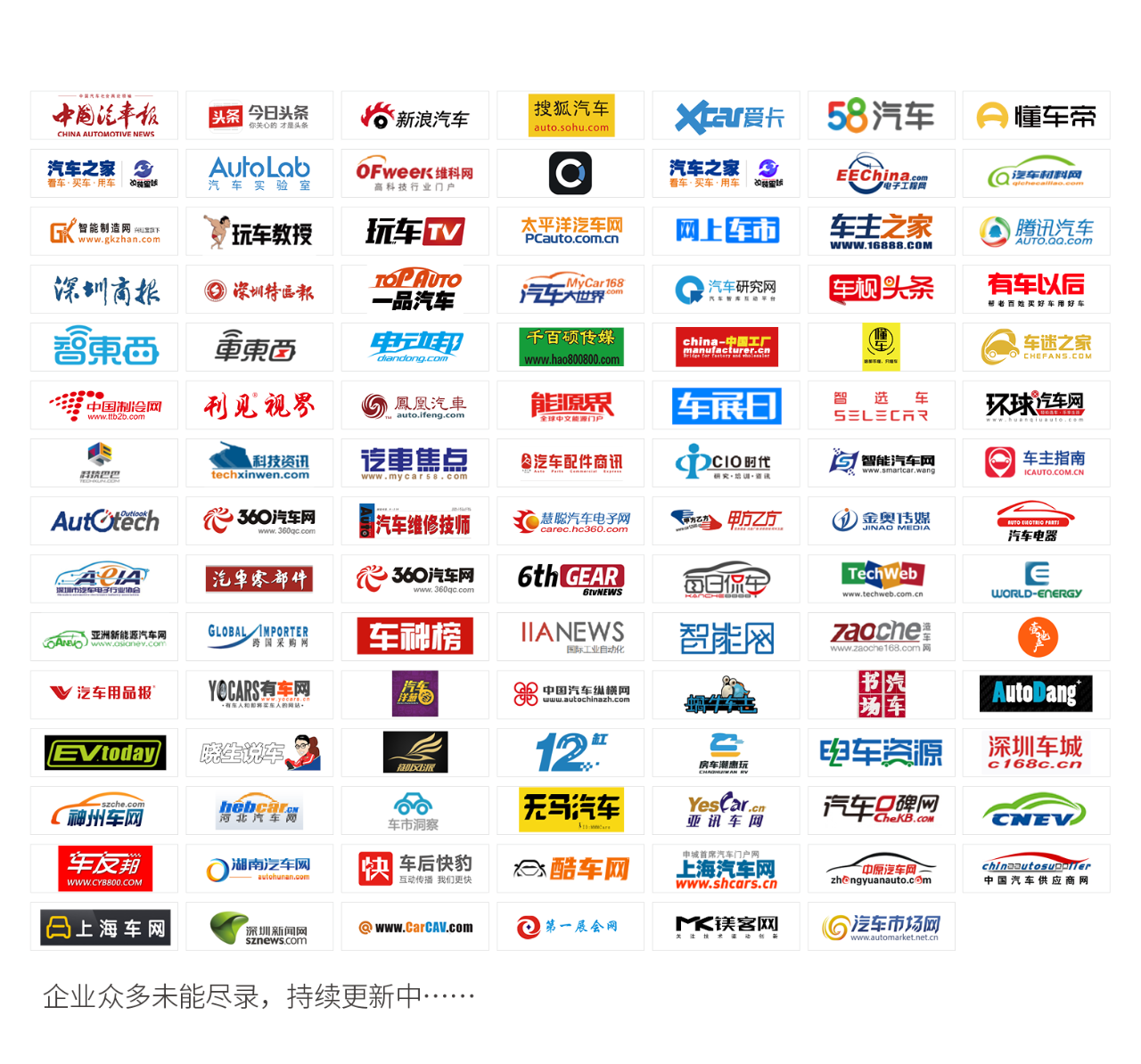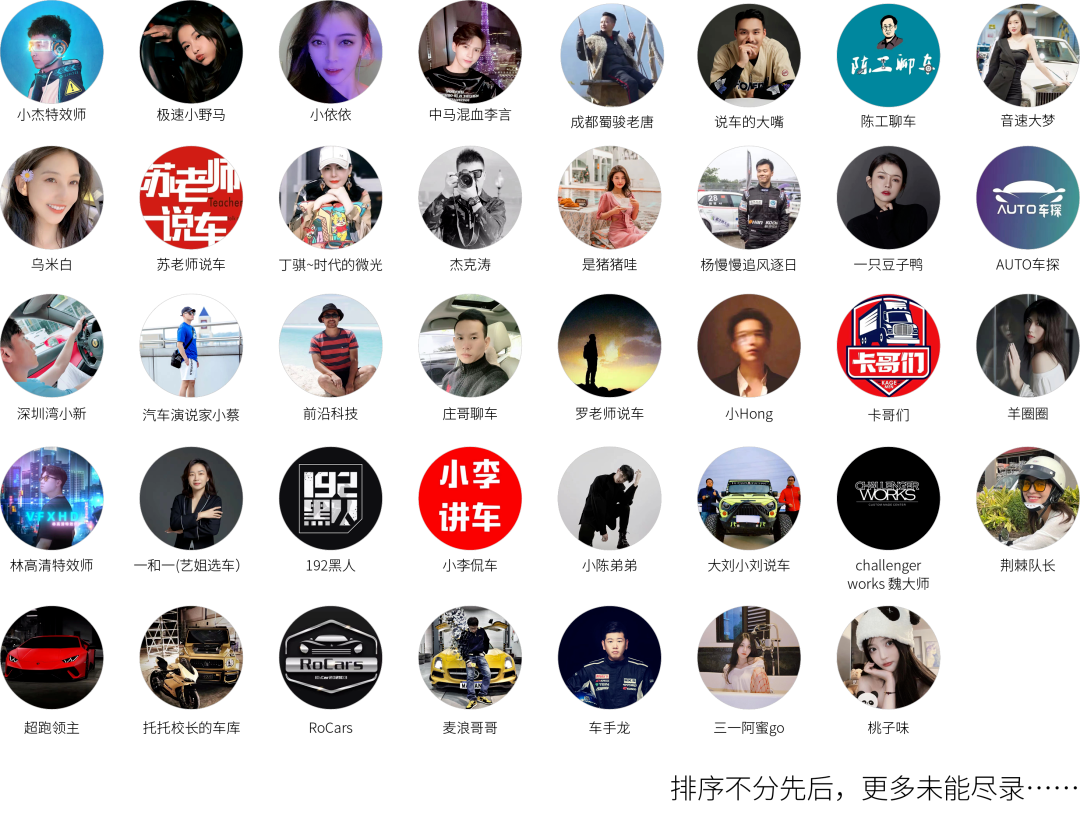 Ecology Promotes Upgrade
From Product Line to Industry Chain, From Innovation Chain to Value Chain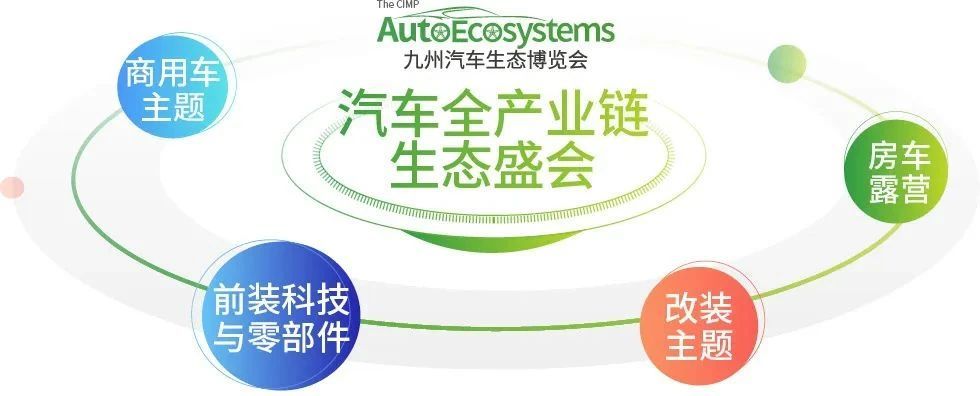 In recent 20 years, auto market relying on overall environment has changed a market that stresses intensive and meticulous work. Declining traditional automotive supply mode indicates huge transformation in the auto industry.
2023 CIMP AutoEcosystems upgrades from all-round dimensions, with its core to help more enterprises gather and network around auto ecology. From the horizontal direction, match-making between bases and enterprises to further realize industry coordination. From the vertical direction, lower to industrial bases, graft resources, promote global trade, and help enterprises become larger and stronger. Strong vitality has been shown through upgrades from product line to industry chain, from innovation chain to value chain. "Global Future Vehicle Ecosystem" built by CIMP AutoEcosystems Expo will become a high-quality development platform to foster trade and communication.
CIMP AutoEcosystems Expo

Founded in 2006, CIMP AutoEcosystems Shenzhen International Smart Mobility, Auto Modification, and Aftermarket Service Ecosystems Expo ("CIMP AutoEcosystems Expo" for short below) has been held for 21 consecutive sessions. It is the most influential and only large-scale automobile ecological trade platform in Asia centered on "Science and Technology • Fashion • Trade", including Vehicle Launches, Auto Technology, After-Market Service, and Auto Culture. 2023 CIMP AutoEcosystems Expo is composed of 4 themed exhibitions: Shenzhen International Custom Modified Vehicle Exhibition, Global Intelligent Vehicle Conference and Fair, Shenzhen International Ecological Commercial Vehicle Expo, Shenzhen International RV and Camping Exhibition. The Exhibition scale will reach to 240,000 m2, and it is expected to attract over 300,000 professional buyers on site.