The 22nd/23rd CIMP AutoEcosystems Expo was successfully held, the exhibition and trade effects have been fully affirmed and highly evaluated by government leaders, embassies and consulates, exhibitors and buyers.
The 24th CIMP AutoEcosystems Expo, a professional platform for industry innovative technology release, brand display and exchange trade, will be held at the Shenzhen World Exhibition & Convention Center from March 7th to 10th, 2024. The exhibition will be expanded its size and upgraded its exhibiting categories, focusing on the three major sectors of passenger cars, commercial vehicles, and automotive cultural activities. It will fulfill the coordinating development of four themed exhibitions, Custom Modification Theme, Auto Technology Theme, Commercial Vehicle Theme and RV & Camping Theme, and build a B2B2C multi-platform for global B-end trade and C-end consumption in the auto industry.
Building an auto industry cluster of
280,000㎡ with a global perspective
The CIMP AutoEcosystems Expo is developing rapidly towards a Professional, Market-Oriented, and International exhibition. In 2024, the overall scale of the exhibition will be expanded to 280,000㎡(80,000 ㎡for the new vehicles release and 200,000 ㎡ for the auto technology and auto aftermarket), forming the four major automotive industry clusters, including Custom Modification, Auto Technology, Commercial Vehicle and RV & Camping. More than 30 international automotive technology summits and 20 international automobile cultural activities with be held concurrently with the standard of "One Cluster, One Forum". It drive the formation of an ecosystem of exhibiton/trade and global automotive industry.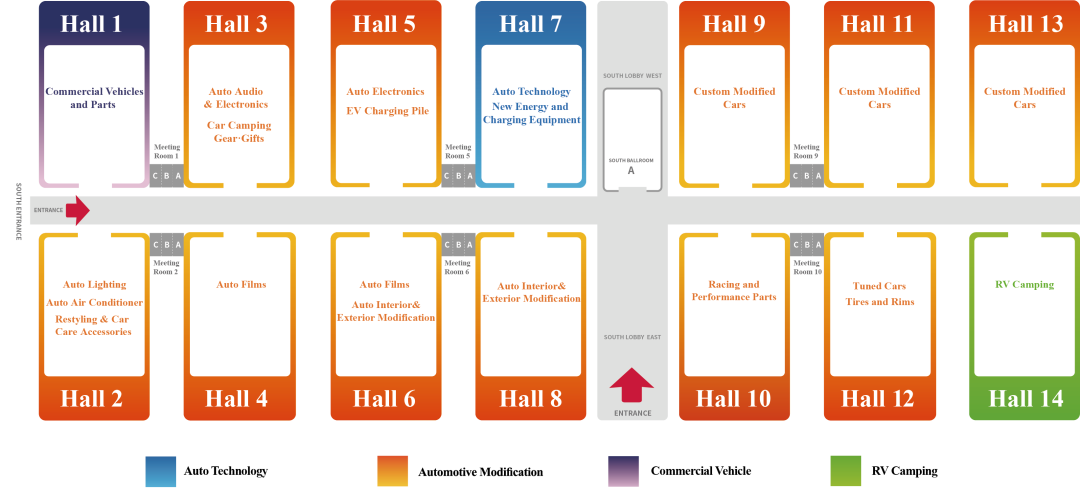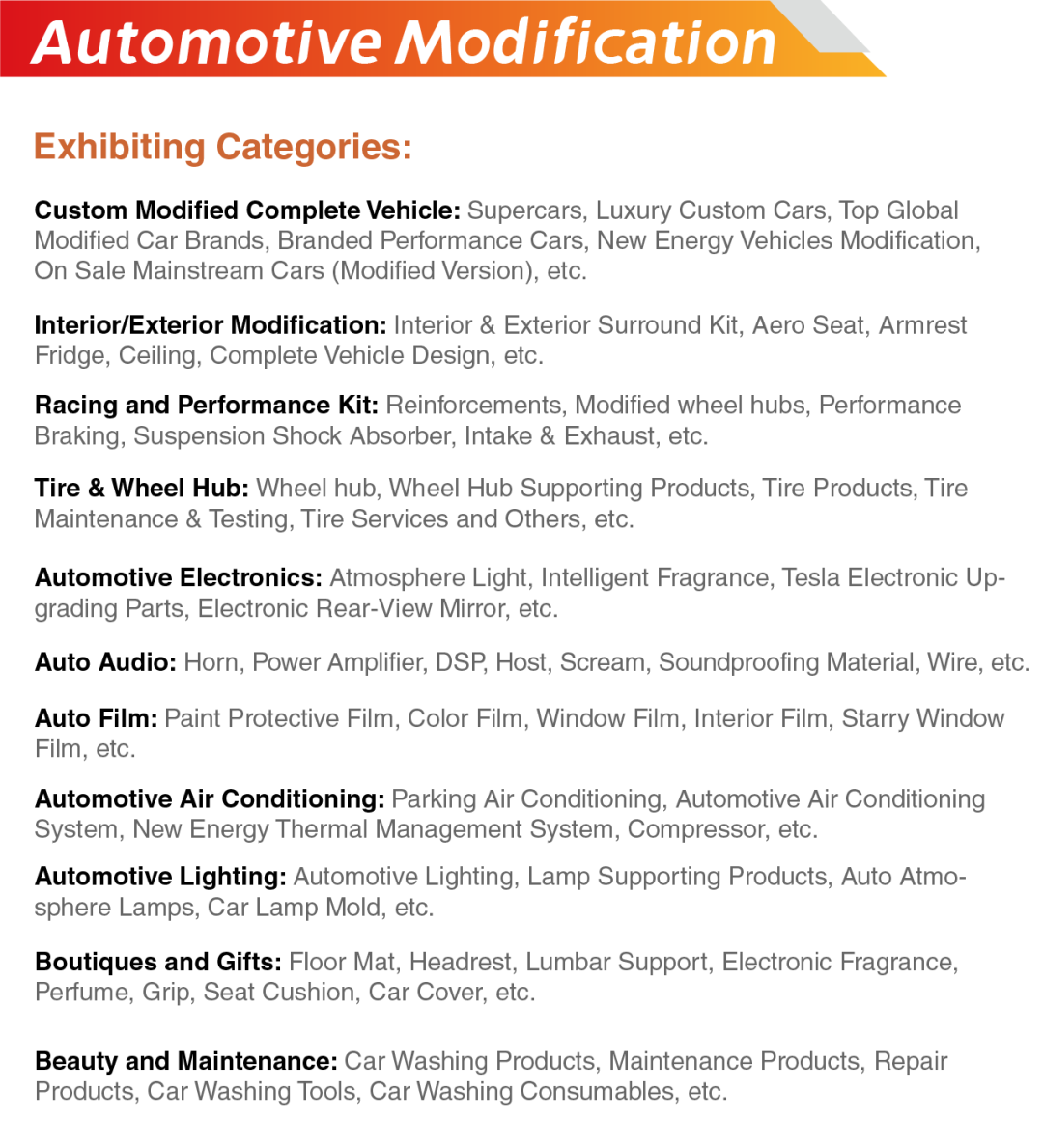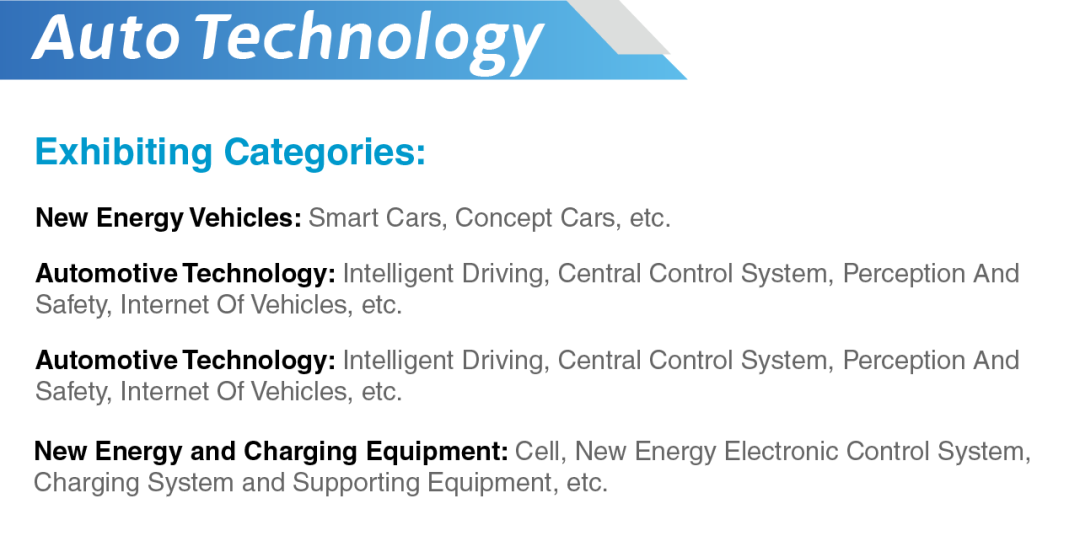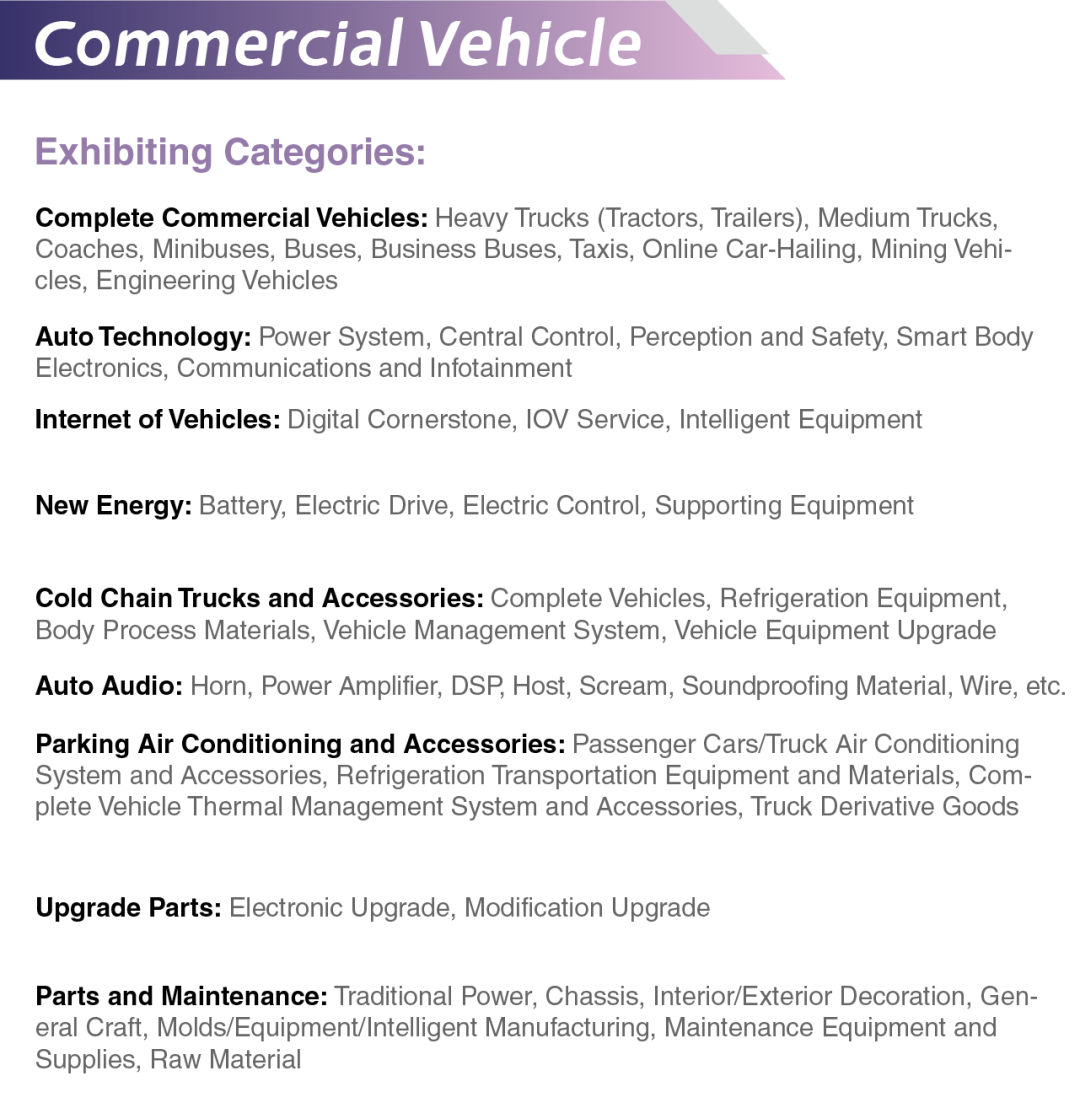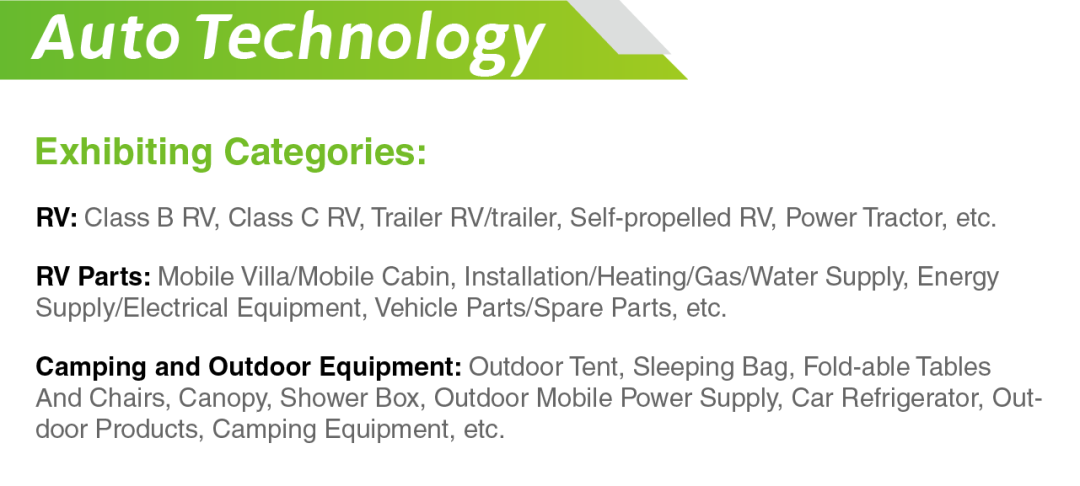 Covering the B-end trade and C-end consumption,Expand the
global omnichannel with a larger blueprint
In 2024, the CIMP AutoEcosystems Expo is expected to have more than 300,000 professional buyers. The increase in the number of buyers is due to its wider and deeper influence and breakthrough in the automotive industry chain and countries/regions,, which effectively help exhibitors to expand new sales channels and new customer groups while consolidating and maintaining original resources.
From the perspective of the industry chain, the exhibition has buyer resources advantages, such as Sales Companies, 4S Store Groups, Service Providers, Provincial & Municipal Agents, E-Commerce and Cross-Border E-Commerce, Chain Franchises, Terminal Stores, fully leveraging the brand effect of customized vehicle clusters. At the same time, it actively expands the buyer resources from OEM to boutique companies, and deepens the impact of the C-end consumers like car owners and enthusiasts, building a complex buyers group for the Expo.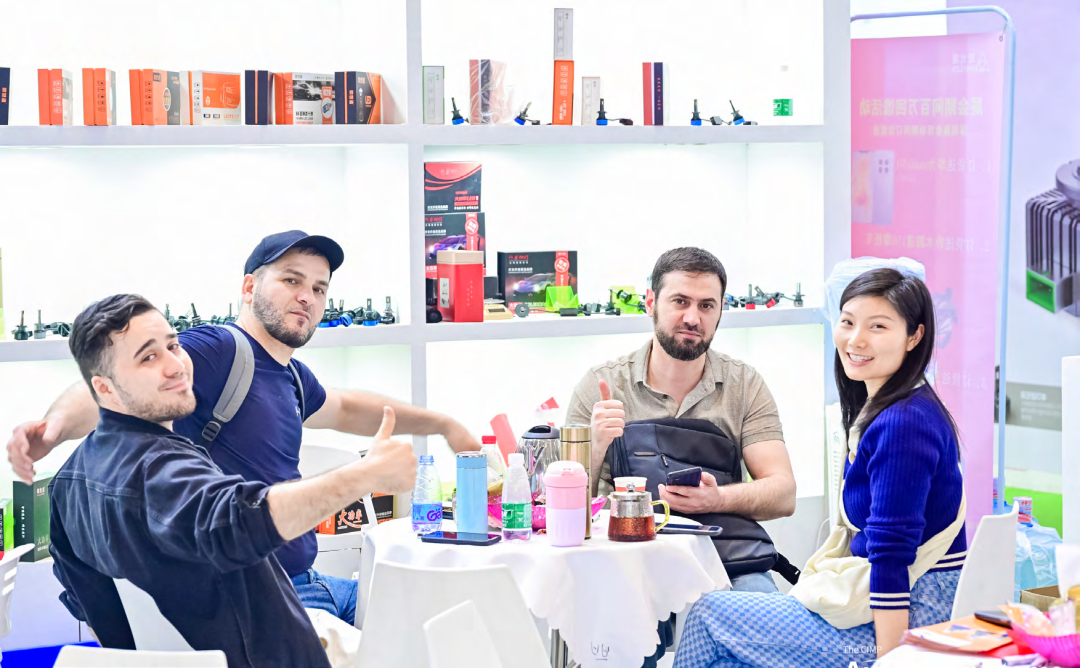 From the perspective of participating countries,
During the 2023 CIMP-
A
utoEcosystems
, embassies and consulates from more than 30 countries visited the expo for the market
research, and prepared to actively organize exhibitor and buyer delegations from their respective countries to participate in the next session in 2024. CIMP continues to provide the platform for Chinese high-quality enterprises and excellent brands to
enter the supply chain of the global auto market.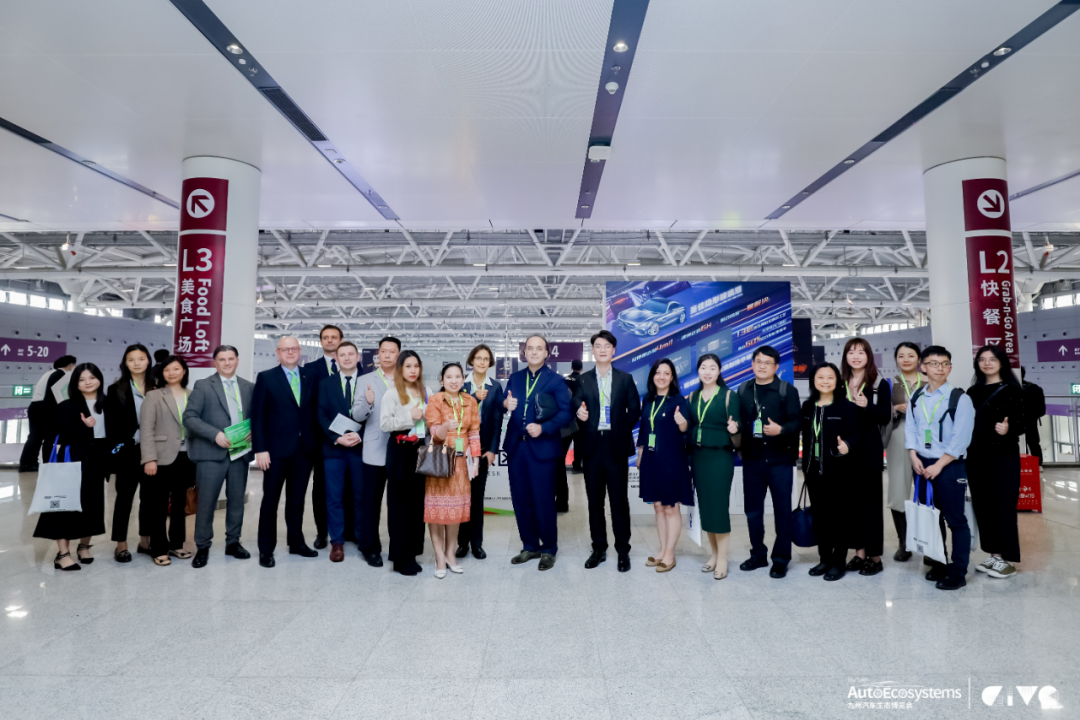 New Mode for Media Day!
Fully promote the company's
brand and trade
98% of buyers were satisfied with the 2023 CIMP AutoEcosystems Expo
and
full load of annual purchase orders;
86% of
buyers expressed their plans to visit the next Session;
90% of buyers hoped the Expo to extend the opening time and increase more opportunities for communication and trade with
exhibitors
.
I
n 2024, CIMP AutoEcosystems Expo,
a B2B exhibition
, will
establish
a "Media and VIP Buyer Day" for the first time
.
a
nd
the
exhibition period will be extended to 4 days (March 7-10, 2024). It is expected that more than 1,000 KOLs will be present and the total exposure will exceed 1 billion,
m
aximize the quality of the exhibition, improve the efficiency of procurement and increase the exposure time of participating brands
which will continuously improve
the quality
and
experience of exhibitors and buyers.
In 2024, the CIMP AutoEcosystems Expo will provide more exhibiting time with better services to help enterprises to achieve brand promotion, channel development, and transaction increment. This will fully empower enterprises to demonstrate their brand strength, meanwhile presenting annual technology releases, brand display and trade fair for the automotive industry.
From March 7th to 10th, 2024, Shenzhen World Exhibition & Convention Center, we will see you there!
Founded in 2006, Shenzhen International Smart Mobility, Auto Modification and Aftermarket Service Ecosystems Expo (referred to as: CIMP AutoEcosystems Expo) has been successfully held for 23 sessions. With the core concept of 'Technology, Fashion and Trade', the exhibition is the most influential and the only large-scale exhibition and trade platform in Asia covering Auto Technology, Vehicle Release, Auto Aftermarket, and Auto Culture categories and business form. The 2024 CIMP AutoEcosystems Expo will be expanded and upgraded comprehensively, with the total exhibition scale of 280,000 square meter and the buyers are expected to exceed 300,000."Media and VIP Buyer Day" will be established for the first time, and the exhibition period will be extended to 4 days. The Expo consists of four major themed exhibitions: Shenzhen International Custom Modified Vehicle Exhibition, Global Intelligent Vehicles Conference and Fair, Shenzhen International Commercial Vehicle Ecosystems Expo, and Shenzhen International RV & Camping Exhibition, which is a grand ceremony in the automotive industry dedicated to creating a global annual high-quality and efficient new products, new technology releases and trading platforms.