In October 2023, CoolCarShow will join hands with the China Council for the Promotion of International Trade, Automobile Sub-Council, the organizer of the China Auto Show (Tianjin), to hold the "2023 China (International) Auto Modification Carnival (CoolCarShow Carmeet-Tianjin)" from September 29th to October 1st at the National Convention and Exhibition Center (Tianjin). The exhibition scale of the Carnival is 12,500㎡, the event will bring a fully immersive car tuning culture experience to visitors. It is the largest and most influential modified car exhibition in North China!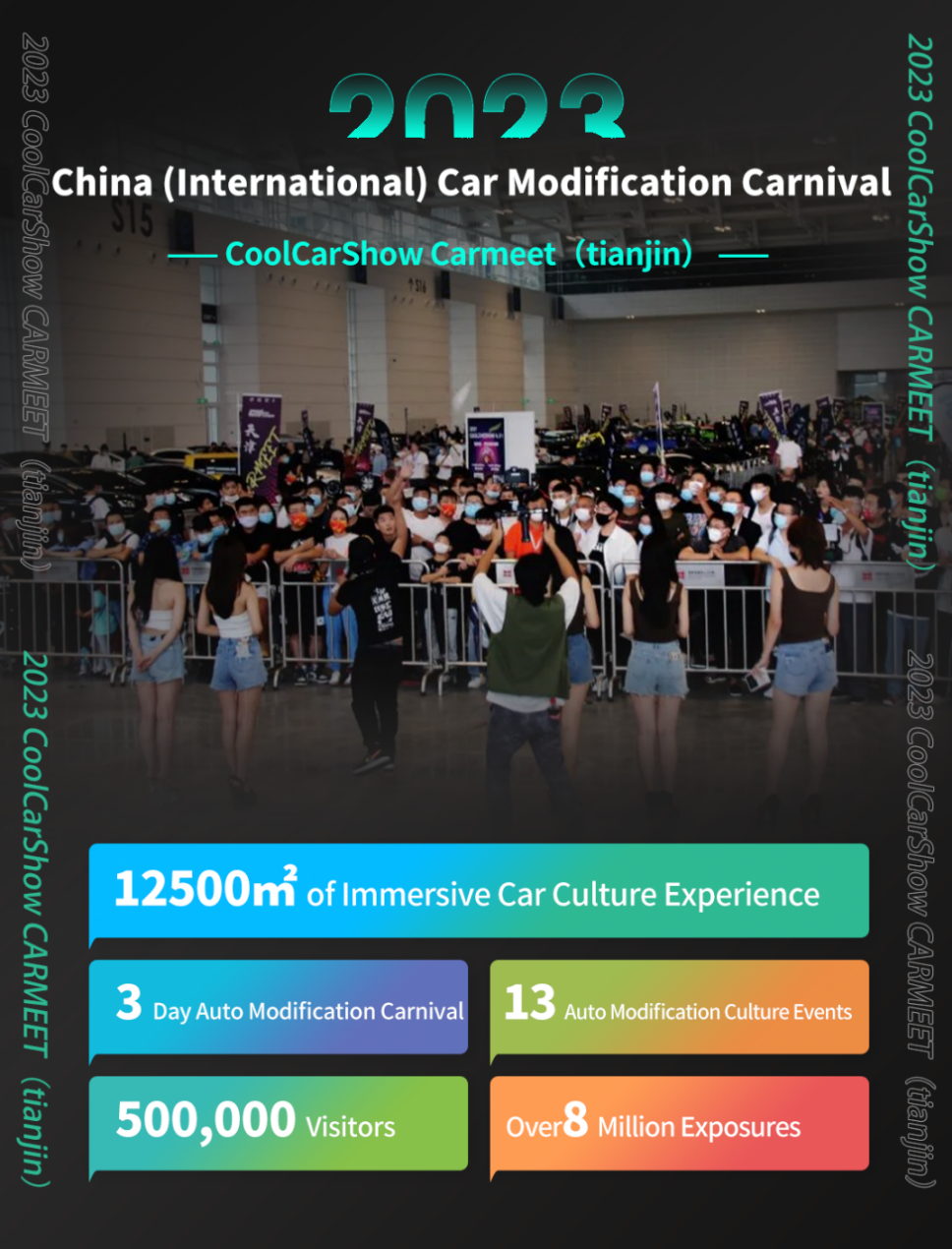 The 2023 event will partner with Autohome and PSPA, attracting 15 modification brands and 200 tuning cars to participate. Meanwhile, 7 brand shows and 6 activities will host concurrently, creating an automobile culture carnival with parent-child experience, cultural exchange, and knowledge popularization.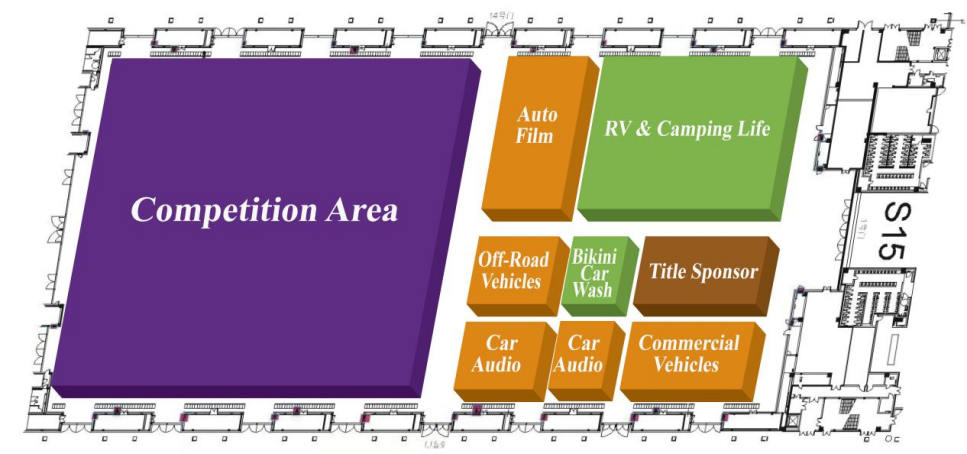 CoolCarShowCarmeet Layout
The Brands Show includes : Cool Color Film Show, Auto Audio Experience Show, Car Washing Show, RV and Camping Life Show, as well as Performance Car, Off-road Vehicle, and Commercial Vehicle Modification Show. In the Carmeet area, there will also be exciting events such as Modification Industry Salon, Best Modified Car Competition (Online/Offline), Hella Flush Competition, Braking Competition, Loud Voice Competition, and Drinking Competition. There will also be various surprising gifts on the venue during the 3-day event.
This event is expected to attract
over
500,000
visitors from the Beijing
-
Tianjin
-
Hebei
regions
. It will be a grand gathering
event
for
car modification
enthusiasts in th
is
region and a feast that promotes interaction and exchange between the South China and North China
modification
communities, leading the trend of Chinese car modification culture.
The 2021 CoolCarShow Carmeet -Tianjin Overview
The 2021 CoolCarShow Carmeet -Tianjin was held on October 3rd to 4th, 2021 at the National Convention and Exhibition Center (Tianjin). The two-day show attracted over 100,000 visitors, 200 participating vehicles, and a total online exposure of over 100 million on mainstream platforms through static and dynamic displays.
Exhibiting and Business Cooperation Contact
Contact us for exhibiting and business cooperation. Please indicate the specific matters or company name. Thank you for your attention!
For Exhibitions: Ms. Liang
Tel: 18520492184
For Media Cooperation: Ms. Feng
The 2023 China
Motor Show
(Tianjin)
(hereinafter referred to as "2023 Tianjin Auto Show") will be held from
September 28 to October 4, 2023
at the
National Convention and Exhibition Center (Tianjin)
, with an expected exhibition area of
200,000
㎡
and an estimated number of visitors exceeding
500,000
.
Tianjin Auto Show
is
one of
the most
influential
international
A
uto
S
how
s
in the
N
orth
China
in
single
year.
In this year's Show, domestic and foreign
major car
brands will showcase their latest technologies and
vehicle
models, and many debut models will also be unveiled on site. This will
also
be the largest auto show and industry exchange platform in the northern region.
2024 Shenzhen International Custom Modified Car Exhibition Visit Registration Entrance ↓↓↓
(Scan the QR Code for Registration )
- END -
Founded in 2006, Shenzhen International Smart Mobility, Auto Modification and Aftermarket Service Ecosystems Expo (referred to as: CIMP AutoEcosystems Expo) has been successfully held for 23 sessions. With the core concept of 'Technology, Fashion and Trade', the exhibition is the most influential and the only large-scale exhibition and trade platform in Asia covering Auto Technology, Vehicle Release, Auto Aftermarket, and Auto Culturecategories and business form. The 2024 CIMP AutoEcosystems Expo will be expanded and upgraded comprehensively, with the total exhibition scale of 280,000 square meter and the buyers are expected to exceed 300,000."Media and VIP Buyer Day" will be established for the first time, and the exhibition period will be extended to 4 days. The Expo consists of four major themed exhibitions: Shenzhen International Custom Modified Vehicle Exhibition, Global Intelligent Vehicles Conference and Fair, Shenzhen International Commercial Vehicle Ecosystems Expo, and Shenzhen International RV & Camping Exhibition, which is a grand ceremony in the automotive industry dedicated to creating a global annual high-quality and efficient new products, new technology releases and trading platforms.